Jack Hanania Jr. Award 40 under 40 by Automotive News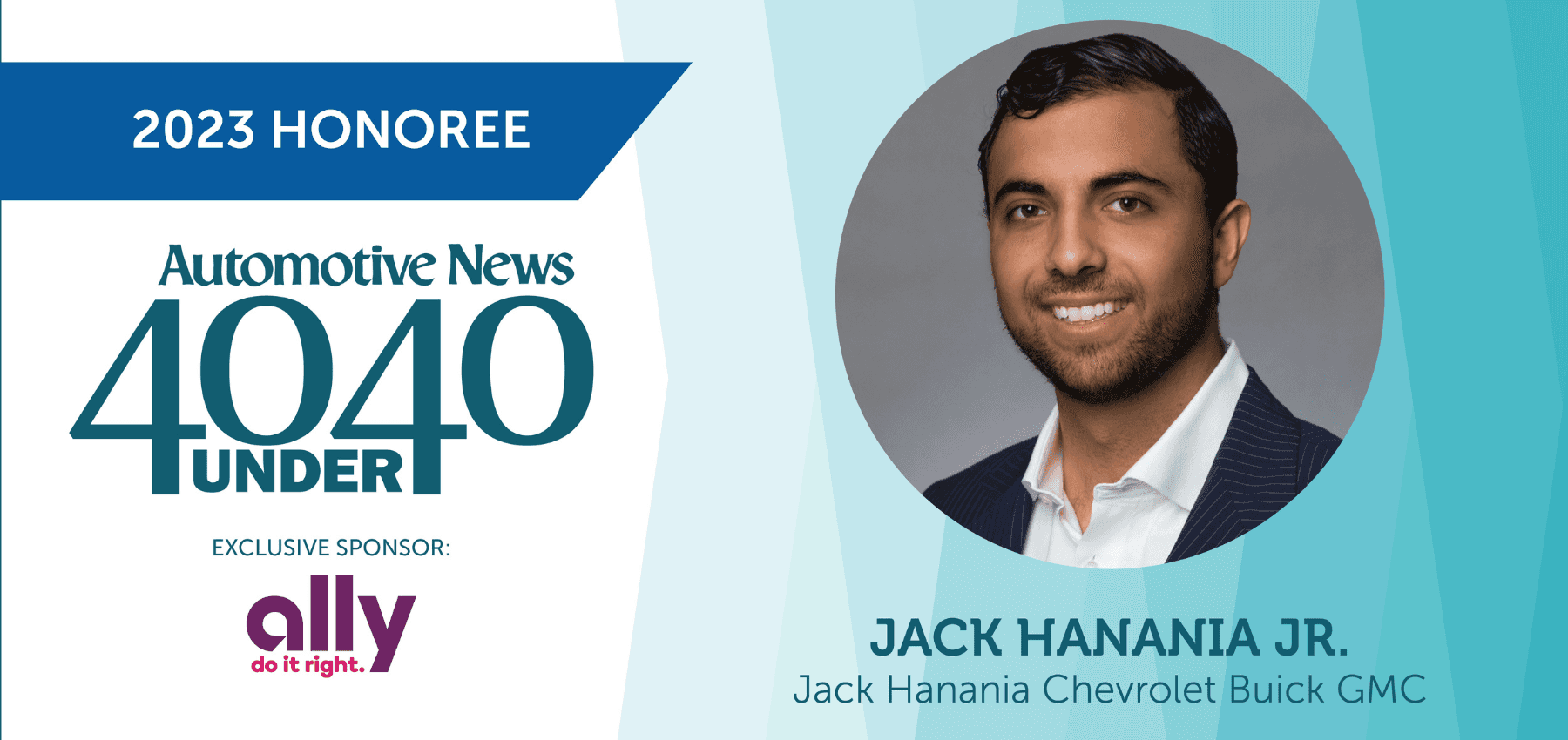 JACKSONVILLE, Fla., – July 10, 2023 – Hanania Automotive Group is proud to announce on, July 10, 2023, Automotive News named Jack Hanania Jr. an Honoree of 40 Under 40 of 2023. The award recognizes the top up-and-coming talent in the automotive world! 
"I am deeply honored to receive this prestigious recognition. It is truly a testament to the unwavering dedication and tireless efforts of my whole team and the guidance I have received throughout the years from my mentors," says Jack Hanania Jr., Vice President of the Hanania Automotive Group. "With gratitude and a relentless pursuit of excellence, I will remain committed to delivering exceptional customer service and redefining the automotive buying experience for our customers."
Automotive News received nominations from across the U.S. and identified outstanding performers in a large field of high-quality talent at dealerships. This year's honorees are a diverse group with a broad range of titles and backgrounds. These bright stars were profiled in the July 10 issue of Automotive News, the leading news source for the global automotive industry. 
"Our 40 Under 40 program celebrates dealership employees who stand out with their leadership and their results," said Jamie Butters, executive editor of Automotive News. "The individuals on this 13th annual list have demonstrated significant business achievements that have improved their stores and their communities."
About Hanania Automotive Group
The Hanania Automotive Group, located in Jacksonville, Florida, was founded in 1998 by Jack Hanania. Now in business for almost 25 years, the Hanania Automotive Group has over 15 locations across the state of Florida and Pennsylvania. Dedicated to bettering the community that supports them, Hanania Auto has donated to local charities, significantly impacting the progress of many incredible organizations. Focused on the client experience, Hanania is bringing about change through innovative ideas that engage the next generation of automotive consumers.   
### 
FOR IMMEDIATE RELEASE: July 10, 2023 
Caitlin Bailey
Hanania Automotive Group 
(904) 553-7401 
[email protected]