National Car Care Month with the Hanania Family Plan

When you visit us here at Hanania Automotive Group, we have your convenience and comfort in mind! All vehicles new and used, are protected by the Hanania Family Plan. But what does this all entail? For National Car Care Month, it means that you are in good hands to ensure that your car is set up right for everything this year will bring. You can rest assured that your purchase is protected from the minute you drive off our lot.

Free Car Washes
At Hanania Automotive Group, we want to keep your ride looking shiny and brand new year-around. It is just as important to wash your vehicle regularly at home this spring and throughout the year. If you live in an area where salt (whether from the ocean or snow) and other harsh debris come into contact with the outside of your vehicle regularly; car washes help to provide the necessary protection from these harsh elements. This dirt, grime, and other contaminants that can build up on the surface of your car over time can lead to damage such as scratches, rust, or fading. In fact, regular washing can also help to prevent potential health hazards! When dirt and grime accumulate on the exterior of your car, it can harbor bacteria and other harmful substances. By washing your car regularly, you can help to keep your car and your surroundings clean and healthy.
Hanania Automotive offers complimentary car washes to all of our customers who service their vehicles with us. So when you come in for your next tune-up make sure to request a quick wash, your car will thank you!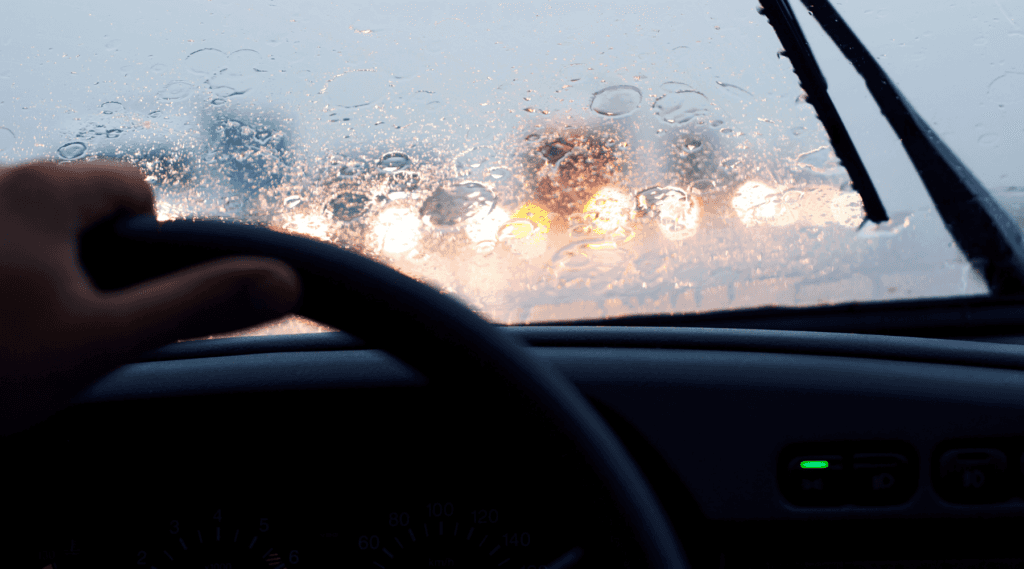 Rain Repellent
We know as Floridians that summer brings afternoon, evening, and morning rain! In a state where we cannot avoid the rainy months, make sure you are protected and your vehicle is ready to hit the road, safely. The Hanania Family Plan treats the windshield of both new and used vehicles with an airforce-grade rain repellent. This adds a hydrophobic coating that quickly repels water and provides better driving visibility in the rain. You can get this added anytime you bring in your vehicle for servicing, up to 5 times, at no additional charge!
Also, remember to turn on your headlights to increase your visibility and help other drivers see you on the road. By taking these precautions and getting the Hanania Family Plan rain repellent treatment for your windshield, you can enjoy driving in Florida's rainy weather without compromising your safety. Don't let the weather slow you down – be prepared and stay safe on the road!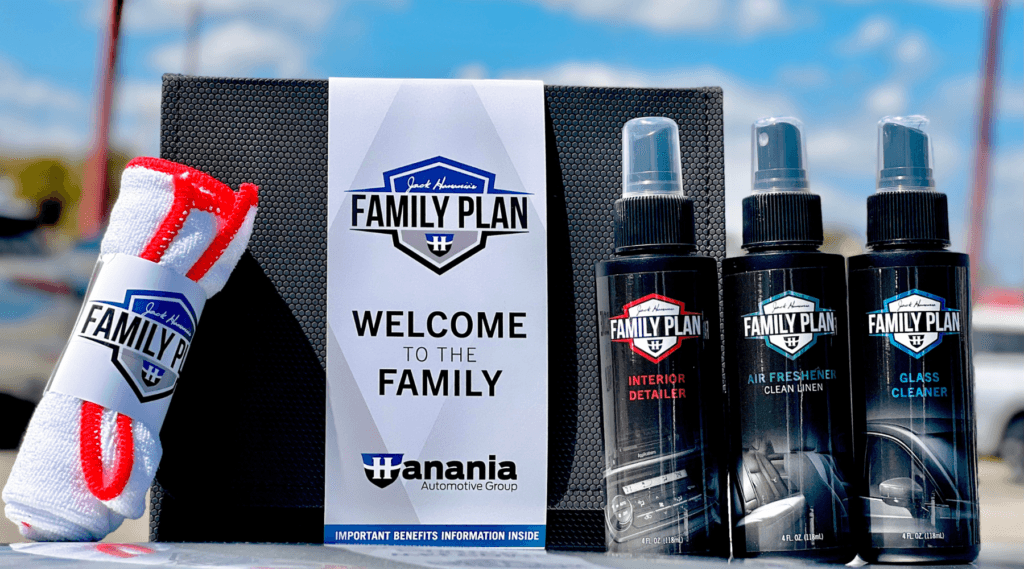 Car Care Cleaning Kit
Home maintenance for your vehicle is easier than it seems! The Hanania Automotive team wants to get you started right in your new vehicle. All new and pre-owned vehicles come with a travel-size car care cleaning kit. Included in your kit are an air freshener, microfiber towel, window cleaner, and fabric-protecting spray. These basics will help you get on the right track to building up your at-home cleaning kit, while the travel size convenience makes it easy for on-the-road accidents. By taking a few simple steps to maintain your vehicle at home and using the Hanania Automotive travel-size car care cleaning kit, you can keep your car looking and running like new for years to come.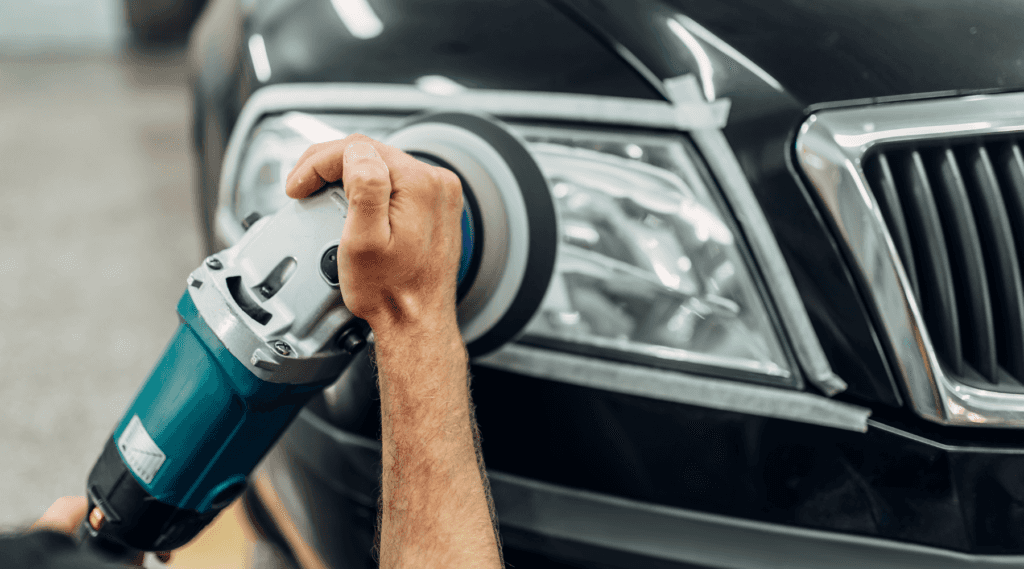 Headlight Protection
Headlights are used for communication between cars, getting you home safely at night, and we rely on them to guide us through hazardous conditions like heavy rains or fog. You want to ensure that yours are ready to go for the season! Over time, headlights can become clouded or yellowed due to exposure to the sun, environmental pollutants and general wear and tear. This can reduce their effectiveness and visibility, making it difficult to see the road ahead. By keeping your headlights clear, you can improve your visibility and increase your safety on the road. Clear headlights also improve the overall appearance of your car, making it look newer and well-maintained. Regularly cleaning your headlights and removing any buildup or discoloration will not only ensure better visibility while driving, but it will also increase the lifespan of your headlights and save you money in the long run.
Your Hanania Family Plan provides a guaranteed 2 free services to refinish the UV coating which protects against UV rays and humidity.
Our commitment to exceptional customer service doesn't end with your purchase. We believe in building lasting relationships with our customers, which is why we offer ongoing support and assistance throughout the entire ownership experience. Whether you have questions about your vehicle or need help with maintenance or repairs, our knowledgeable and friendly staff are always here to help.
At Hanania Automotive Group, we understand that your vehicle is more than just a mode of transportation – it's a valuable investment that deserves the best care possible. That's why we go above and beyond to ensure that your vehicle stays in peak condition for years to come. Whether you are in Jacksonville, Middleburg, Ponte Vedra, or one of our other various locations around Florida, you can rely on the Family Plan and a little spring cleaning this National Car Care month to keep your vehicle running smoothly. From regular maintenance and routine service appointments to major repairs and upgrades, we have the expertise and resources to keep your vehicle running smoothly and reliably.
So why choose Hanania Automotive Group for all your automotive needs? When you become part of our family, you can trust that you will receive the highest level of customer service and support – every step of the way.
About Hanania Automotive Group
The Hanania Automotive Group located in Jacksonville; Florida was founded in 1998 by Jack Hanania. Now in business for almost 25 years, the Hanania Automotive Group has over 15 locations across the state of Florida and Pennsylvania. Dedicated to bettering the community that supports them, Hanania Auto has donated to local charities significantly impacting the progress of many incredible organizations. Focused on the client experience, Hanania is bringing about change through innovative ideas that engage the next generation of automotive consumers.