RiverWalk Rev Fest: Hanania Exotics Unleashes an Automotive Spectacle on Jacksonville's Southbank

RiverWalk Rev Fest: Hanania Exotics Unleashes an Automotive Spectacle on Jacksonville's Southbank
You're Invited to Take Center Stage with a Stunning Car Show Collection!
JACKSONVILLE, FLA. – August 3, 2023 – Rev up your engines and mark your calendars for the newest car show in Jacksonville, RiverWalk Rev Fest. 
August 20th, from 10 am to 12 pm come out to this free event and enjoy an adrenaline-packed morning of automotive excellence as Hanania Exotics gears up to welcome an even larger crowd than before! RiverWalk Rev Fest has made it's mark as it transforms the Southbank into a dazzling showcase of automotive innovation and power.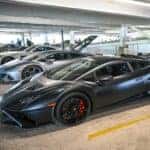 Attendees will be treated to an impressive lineup of exotic, classic, and supercars from all over! Free to the public, enjoy touring the lineup, and visit with local vendors.
Jack Hanania, CEO of the Hanania Automotive Group, expressed his excitement, saying, "RiverWalk Rev Fest is the perfect platform to showcase the beauty and engineering brilliance of these extraordinary vehicles while bringing our community together. Our team is thrilled to provide guests with an up-close and personal experience with some of the automotive industry's finest masterpieces."
Details: 
August 20, 2023 10am – 12pm 
1200 Riverplace Blvd. Jacksonville, FL. 32207
Free to everyone
RSVP/Event HERE
###
About Hanania Automotive Group
The Hanania Automotive Group, located in Jacksonville, Florida, was founded in 1998 by Jack Hanania. Now in business for almost 25 years, the Hanania Automotive Group has over 15 locations across the state of Florida and Pennsylvania. Dedicated to bettering the community that supports them, Hanania Auto has donated to local charities, significantly impacting the progress of many incredible organizations. Focused on the client experience, Hanania is bringing about change through innovative ideas that engage the next generation of automotive consumers.   
FOR IMMEDIATE RELEASE: August 3, 2023
Caitlin Bailey
Hanania Automotive Group 
(904) 553-7401 
[email protected]