JACKSONVILLE, Fla. -- Every 22nd of the month is a new focus: STOP 22. And this month Paxon and the Jack Hanania Auto Group are leading the effort to fight the awful statistic from the VA that, on average, 22 veterans in our country commit suicide every day.
Paxon cheerleaders created a rallying cry thanking veterans "so we can sleep at night." Their video ends with the call, "STOP 22!" It's a video you may want to share on social media because project organizers say it's great to see support coming from teenagers.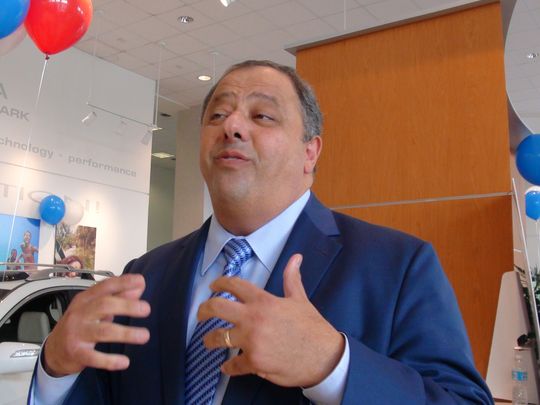 Jack Hanania explains his auto group will give $22 for every car sold 
(Photo: FCN)
The Jack Hanania Auto Group is donating $22 for every car, used or new, sold. The money goes to K9s for Warriors, the non-profit group on our First Coast you've been hearing about in our Operation Orion project.
The Hanania Auto group's website says so far more than $22,000 has come from their auto sales and will be donated to K9s.
Owner Jack Hanania says the project with the donations will continue through 2016.
K9s for Warriors takes rescue dogs from around the country and spends months training them with custom commands for veterans diagnosed with PTSD.
Then the veterans come to K9s for Warriors' "Camp K9" in Nocatee to train with their service dogs for three weeks. After graduation and certification, the dogs go home with the veterans and even sleep by their beds -- or in them -- at night. The dogs often have a "sixth sense" to wake up the warriors from terrible nightmares.
So far -- out of 180+ graduates of K9s for Warriors -- not a single one has committed suicide after they've been paired up with their service dogs.